Peace of mind ensured by "domestically grown and produced products" from "well-established business"
Buckwheat flour on the market is often made using buckwheat imported from China or other countries. Maybe this fact would not be noteworthy by itself, but with false labeling, other food traceability issues and social problems becoming ever more evident in China, the demand among consumers for safe and reliable domestically grown buckwheat to be used in buckwheat flour, the main ingredient for popular soba buckwheat noodles, is on the rise.
We at Furudate Noodles Factory, being committed to using locally grown grain and observing the natural drying method, produce in a handmade fashion safe and reliable products, without using buckwheat or Tartary buckwheat grown in China or other countries, to provide our customers with satisfaction and peace of mind.
In addition to being devoted to using high-quality domestic ingredients, Furudate Noodles Factory also stringently observes the traditional "natural drying method" it has been using since the factory was founded more than a century ago. Letting the noodles slowly dry without applying drying machines brings out the natural flavor of the buckwheat to the utmost and allows the production of buckwheat noodles with a distinctly rich aroma and profound flavor.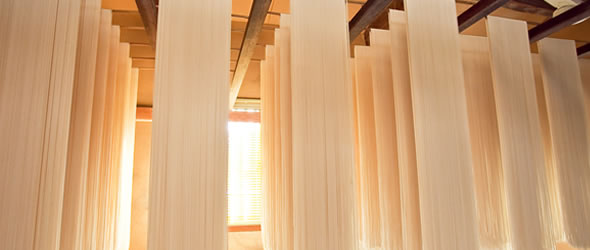 [Tartary buckwheat tea gains attention for its health benefits]
Tartary buckwheat tea, Fukudate Noodles Factory's No.1 selling product, is made from 100% domestic buckwheat, mostly grown in Iwate Prefecture.
Tartary buckwheat is rich in rutin (a phenolic compound known to have powerful antioxidant properties).
Although common Japanese buckwheat also contains rutin, its content in Tartary buckwheat exceeds that of the Japanese varieties by roughly 100 times.
This "rutin" enhances vitamin C absorption, strengthens blood vessels, and also promotes collagen synthesis. By making vascular walls and capillary vessels stronger, it is considered to have a benevolent effect on high blood pressure and arteriosclerosis. It is also known for effectively reducing blood pressure.
Also, as Tartary buckwheat tea doesn't contain caffeine, it can be safely consumed even by children or before going to sleep.