Established in 1909
Karumai Town, Iwate Prefecture, is known for its harsh weather environment. In winter, frigid days with temperatures plummeting below minus 15 degrees frequently occur, and in summer a cold wind called "Yamase" blows in from the ocean. But it is exactly this kind of environment that provides perfect conditions for growing quality millet, buckwheat, wheat and other grains. The town was once Japan's top producer of millet and charcoal, and there used to be more than 10 noodles factories here.
However, with the arrival of the epoch of mass production and mass consumption, the factories closed one after another, losing out to giant noodle makers that used cheaper imported ingredients.
Even today, we at Furudate Noodles Factory, which was established in 1909, are committed to using locally grown grain and stringently observing the natural drying method, while striving to revive the regional industry in a joint effort with local farmers.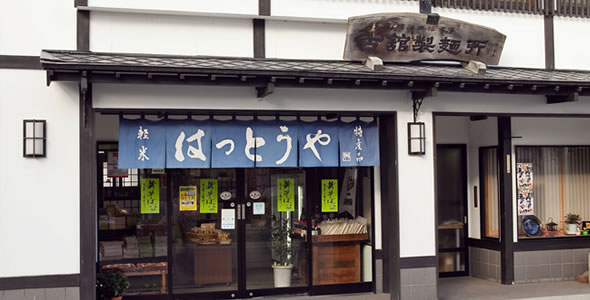 Introduction Video
Overview
Brand Name
Furudate Noodles Factory, Established in 1909
Also known among local people as "Hattoya".
Representative
Hiroshi Furudate
Address
8-139 Karumai, Karumai-cho, Kunohe-gun, Iwate Prefecture 028-6302, Japan
Contact
TEL:+81-195-46-2301
FAX:+81-195-46-2696
Established
1909
Number of Employees
5 (as of November 2014)
Open Hours
Weekdays: 8:30 am to 6:30 pm
Sunday: close
Major buyers

Fukuro Company
Iwate Juuzen Bussan
Access Map
5 minutes by car from Hachinohe Expressway Karumai IC on the Hachinohe Expressway.
From Morioka Station or Ninohe Station on the Tohoku Shinkansen Line, use JR Bus / Iwate Kenboku Bus / taxi.